RUNNER UP FOR JONNY WALKER AT ERZBERGRODEO RED BULL HARE SCRAMBLE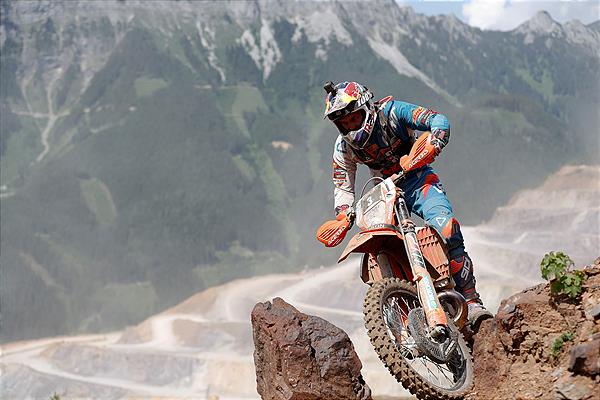 The 24th edition of the Erzbergrodeo Red Bull Hare Scramble was held in hot, dry conditions at the famous Iron Giant mountain at Eisenerz, Austria. Marking the second round of the inaugural World Enduro Super Series, it was the hard enduro specialists that again battled for the win.
Quickly overcoming a poor start, Jonny Walker soon moved into the second-place position early in the race. A small mistake in the first forest section cost the Brit some time but he held on to third as the race took riders into the more treacherous sections of the track.
At the section known as Green Hell, Jonny arrived in fourth place, but in battling his way up the steep slope on his own he was able to pass two of the riders ahead of him and set about chasing the race leader. Despite pushing hard during the final 15 minutes and clawing back valuable seconds, Jonny couldn't quite take the win, ultimately crossing the line second, a mere 41 seconds behind winner Graham Jarvis.
Jonny Walker: "That was a tough race but I am happy to finish second and take the lead in the WESS standings. I didn't get the best of starts and lost a bit of time in the dust. Taddy made a mistake and I got out in front, but then Manni and Billy passed me on a hill when I messed up a little. Their speed was way too quick and I knew I had to pace myself. Carl's Dinner was tiring, but I kept things steady and tried to minimise any mistakes. I managed to clear Green Hell ok and came out of there in second. The rest of the race from then on was less tricky and I pushed on as hard as I could but couldn't quite catch Graham before the finish. I'm happy with second and it's good for the championship but it would have been nice to take the win."